I've survived some devastating health challenges that began at a relatively young age. These trials have been embraced as learning opportunities and gifted me the ability to compassionately relate to others who may be facing their own set of challenges.
Integrating lessons learned to inform, guide, and support you :
Cognitively understanding a concept is markedly different from experiencing it. I now fully appreciate that the body functions coherently as a multi-system unit and requires integrated approaches to improve our health. In particular, I have a great respect for the way in which health challenges alter postural dynamics and drive asymmetry.
While our movements are biomechanical in nature, vision and spatial awareness, hearing, the vestibular system, tactile sensation, respiration, and cranial rhythms directly influence our postural dynamics. Again, knowing this and experiencing it are two different things. Addressing several of these postural influences with proper interventions have alleviated various aches/pains, improved my flexibility, restored more balance to my right and left sides, helped me feel more grounded, and enhanced my breathing capacity.
By trial and tribulation, I've learned many aspects of navigating our complex healthcare system as well as the necessity of advocating for oneself and asking informed questions.
Complementary and alternative approaches that address underlying issues and root causes of pain, illness, and movement restrictions are often necessary in order to feel your best.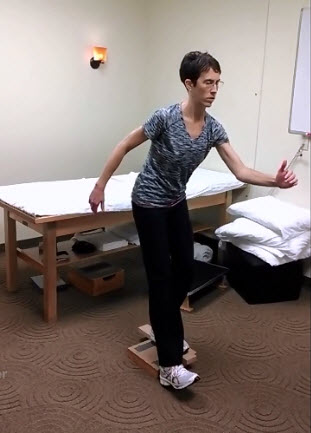 Using adjunct vision and dental therapy to actively retrain balance and coordination between the right and left sides of my body
– Hruska Clinic, Lincoln NE
"I was so impressed by her close attention and compassionate style of care that I continued to see her for a number of health-related issues over the years."Wilma Schiller, M.D.